Laptops under $100? Do they really exist? The answer is YES! There are few laptop manufacturers who are offering laptops for the price as low as 100 dollars. But, finding the best cheap laptop isn't an easy task as there are very few "box packed new laptops" available in this price range, so buying a refurbished laptop is the only way to crack a deal here. So which are the best laptops under $100? Are these dirt-cheap laptops really worth buying? Let's find it out.

Technology is improving every day, and to cope with all the latest technologies in the market, laptop manufacturers launch new laptop models with minor improvements to its predecessor laptops. As a result, the older laptops, which are still great performers, get huge price cuts when new laptops are launched in the market—this what makes the older laptops an excellent option for budget buyers. If we talk about buying the laptops under $100 budget specifically, you will hardly find any new laptops in this price range because one hundred dollars isn't enough to buy a device like a laptop.
However, there are some great refurbished laptops available to buy under $100, which can handle basic tasks like editing documents, making presentations, surfing the internet, and other low performance requiring jobs. Yes, we will look at the list of best cheap laptops in a while, but before that, let's talk about…
So after knowing all the goods and bads of buying the cheap laptops, you can conclude whether these cheap laptops under $100 are for you or not.
Now, If you have decided to go with these ultra-affordable machines, then below is the list of best laptops to buy within your budget of 100 dollars or else, check out our other laptop buying guides (use the main menu above) to find the perfect laptop match for yourself.
Best Cheap Laptops Under 100 Dollars – Top Picks
1. Dell Latitude D630 14.1 Inch Notebook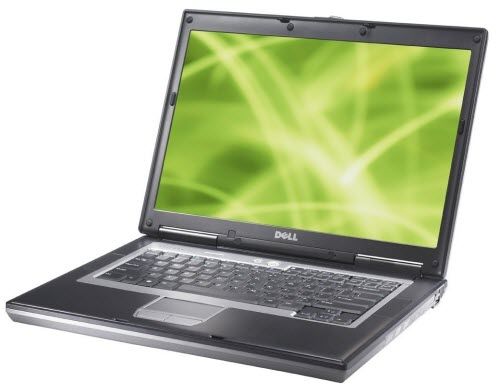 This laptop is a testimonial for Dell that it has been the reliable laptop brand for more than a decade now. The D630 14″ laptop was launched back in 2007, and still, it stands among the best cheap laptops under 100 dollars. That's amazing!
As you can see in the image, the laptop's build quality is excellent, and toughness is everywhere you see on this Dell laptop. Its 14-inch display is nice to perform typical day to day works. Its keyboard is not the most convenient as we see in modern laptops, but you'll get used to it. Inside its durable plastic body, there is an Intel Core 2 Duo 2.2 GHz Processor accompanied by 4GB RAM.
For storing all your required files, it has 80GB of hard drive disk. Streaming videos through Netflix and YouTube will be buttery smooth on this laptop because it comes with Intel integrated graphics. Overall, the Dell Latitude D630 is a pretty nice laptop for basic home and business uses.
Hardware Specifications of Dell Latitude D630 Notebook
Processor
Intel Core 2 Duo 2.2 GHz Processor
RAM
4GB DDR2 RAM
Storage
80 GB Hard Drive
Graphics
Intel Integrated Graphics Media Accelerator X3100
Display
14.1-Inch Screen, 1280 x 800 pixels
Operating System
Windows 7
Battery Life
2 hours
Weight
4.4 lbs
2. Apple MacBook 13 MB403LL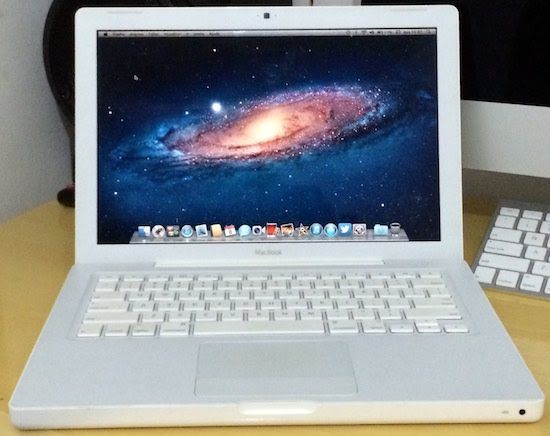 Who doesn't want a MacBook for under $100? Well, you might not be able to buy the latest MacBook with this budget, but a refurbished 2013 MacBook, you surely can.
Being such an old machine, it is still one of the best-looking laptops you can buy for under $100. Its body is finished in white color, and its lid has Apple logo that lights up when you start the computer. As far as performance of the laptop is concerned, you can use this laptop for all sorts of productivity works, and you can even play a few flash based games on it.
However, it runs a very old version of macOS which might limit you from using some modern apps on this MacBook. But overall, this MacBook is a great deal if you're looking for a cheap productivity machine under $100.
Hardware Specifications of Apple MacBook 13 MB403LL
Processor
Intel Core 2 Duo Mobile Processor 2.1 GHz
RAM
2GB SDRAM
Storage
120GB Hard Drive, 5400 RPM
Graphics
Intel Integrated Graphics
Display
13.3-Inch LCD Screen
Operating System
Mac OS X 10.7 Lion
Battery Life
4 hours
Weight
5.07 lbs
3. Lenovo ThinkPad X131e 11″ Chromebook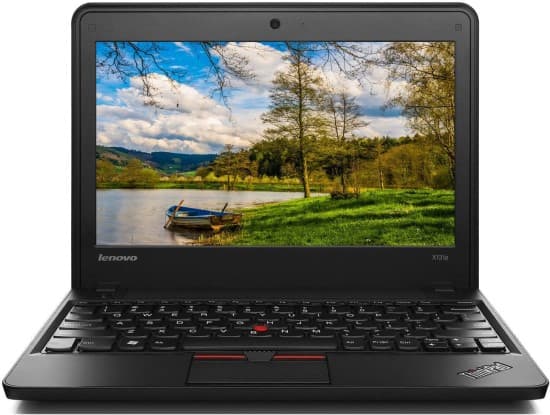 Lenovo's ThinkPad series of laptops has been popular among corporate users and professionals for years. This is actually a ThinkPad Chromebook, but still, it has that business laptop DNA in it and is one of the best ultraportable business machine of its time. It has the signature ThinkPad keyboard for typing long emails and documents and it also features an excellent trackpad. Moreover, you will find all the ports and slots on this laptop including standard USB ports, Ethernet, HDMI and even a full size SD card reader. The build quality of the laptop is also excellent, and it weighs less than 4 pounds, making it the most professional ultra budget business laptop.
It has an 11 inches of LED screen which is decent enough for using indoors, but using this laptop in direct sunlight might not be easy for eyes as its display is dim. It is powered by dual-core Intel Celeron processor with 4GB of RAM and 16GB SSD storage. The storage on the laptop is very less, which is the only not so great thing about this laptop, and if you need more storage then you'll have to use the cloud storage or external hard drive.
Being a Chromebook, it comes with Chrome OS pre-installed, so overall it is a decent business-oriented laptop with enough power for productivity and up to 9 hours of battery life which is more than any other laptop in the sub-$100 laptops category.
Hardware Specifications of Lenovo ThinkPad X131e 11″ Chromebook
Processor
Intel Celeron 1007U Dual Core 1.5GHz Processor
RAM
4GB DDR3 RAM
Storage
16GB SSD
Graphics
Intel HD Graphics
Display
11.6-Inch Widescreen LED Screen, 1366 x 768 pixels
Operating System
Chrome OS
Battery Life
Up to 9 hours
Weight
3.9 lbs
4. Dell Chromebook 11
Top Pick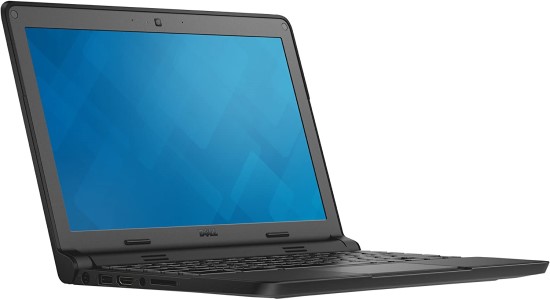 Another laptop from Dell and this one is a Chromebook from the Inspiron series of notebooks, and hence its design is different from other Latitude series laptops in the list. Well if we look at the build quality of Dell Inspiron 3120 Chromebook, then it is also tough like D630, and it can protect laptop from all types of daily wears and tears.
Keys of its keyboard travel enough distance to provide good tactile feedback while typing which results in a pleasant typing experience. Its touchpad is small but it's serviceable. This laptop has a 11-inch display, and it has good speakers, which make this laptop suitable for media consumption as well.
It is backed by Intel Celeron processor and 4GB of RAM with 16GB of eMMC storage, which is again very small storage space, but you can't complaint given the price. This laptop runs Chrome OS, and it comes with many useful apps pre-installed, so it's ready to be your daily driver straight out of the box.
Hardware Specifications of Dell Chromebook 11
Processor
Intel Celeron N2840 Dual-Core Processor
RAM
4GB DDR3L SDRAM
Storage
16GB eMMC
Graphics
Intel HD integrated graphics
Display
11.6-Inch Screen, 1366 x 768 pixels
Operating System
Windows 10 Home
Battery Life
Up to 9 hours
Weight
2.7 lbs
Acer C720 11″ is also an excellent option for a price tag that's near to $100. You will find it used or refurbished for around $100 and for the price you get a good looking chromebook, which is excellent for surfing web, watching videos or for productivity apps. It is powered by a dual-core Intel Celeron processor with 4GB RAM and 16GB of eMMC storage. Moreover, it also features integrated graphics which provides extra punch of power when needed. | Check Price on Amazon
5. HP Stream 11
Best Windows Netbook
If you're a student and looking for a laptop to take to classroom, then the HP Stream 11 is perfect laptop for you. It is an 11-inch lightweight Windows netbook which offers perfect balance of performance and battery backup for normal everyday tasks.
The laptop sports a modern design unlike other models in this list and although, it is made completely from plastic, it is strong enough to resist normal wears and tears. As far as performance goes, this laptop comes with Intel Celeron processor with up to 2.4 GHz burst frequency and 4GB of RAM which can handle basic tasks like surfing internet, watching YouTube or Netflix and editing word docs easily. But, it offers just 32GB of eMMC storage which might force users to carry an external hard drive along with them or use cloud storages to save their files and folders.
Thankfully, it doesn't compromise in any connectivity options and comes with fast (802.11ac) WiFi and Bluetooth. Moreover, it also comes with all the required ports and slots including an SD card slot which can be used to increase its inbuilt storage.
Despite its few problems, the HP Stream 11 is still one of the best laptops under $100 to buy right now. It is portable and packs enough power for basic computing making it right choice for students and businesspeople who are looking for a cheap laptop that lasts long and is easy to work on-the-go.
Hardware Specifications of HP Stream 11
Processor
Intel Celeron Dual Core N4000 Processor 1.1 GHz (Turbo up to 2.4 GHz)
RAM
4GB DDR3L RAM
Storage
32GB eMMC
Graphics
Intel HD Graphics
Display
11.6-inch diagonal HD anti-glare display with 1366 x 768 Resolution
Operating System
Windows 10 Home
Battery Life
Up to 10 Hours
Weight
2.3 lbs
If you're into Chromebooks, then Lenovo N21 is another excellent option for students which can be bought refurbished for little over $100. It is capable of handling all the basic internet based workloads and its long battery life ensures you never run out of juice. Moreover, it weighs just 3 pounds making it one of the lightest laptops in its category. | See it on Amazon
6. Dell Latitude E6420 Laptop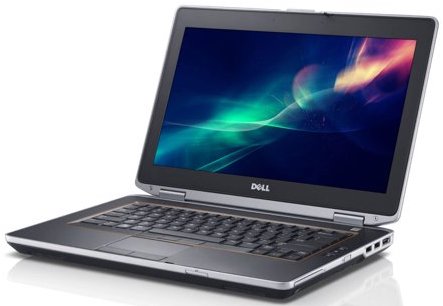 We can say that Dell latitude series are still ruling in ultra-budget laptop market because you will find most of the Dell laptops within $100 price range. Well if we talk about Dell Latitude E6420 laptop then it is a rugged laptop, so it is extra sturdy, extra durable and extra powerful laptop as well.
This laptop is powered by Intel Core i5 2.5 GHz processor and has 4GB of RAM. It has 320GB of hard drive with 7200 RPM which ensures faster speeds while transferring files. All these hardware produces enough power to work smoothly with Windows 10 on this laptop. It is a smaller laptop with 14 inches of HD display (1366 x 768 resolution). It has a keyboard with very closely placed keys, but still, it is good for typing on such small sized laptop.
It has all required ports and slots, but it does not have CD/DVD drive which might be deal breaker for some. But, overall the Dell Latitude E6420 is the best cheap laptop under 100 dollars for people who are looking for portable yet tougher laptop for their daily needs.
Hardware Specifications of Dell Latitude E6420 Laptop
Processor
Intel Core i5 Processor 2.5 GHz
RAM
4GB DDR3 RAM
Storage
320GB Hard Drive, 7200 RPM
Graphics
Intel HD Graphics 4000
Display
14.1-Inch HD Screen, 1366 x 768 pixels
Operating System
Windows 7 Pro
Battery Life
2 hours
Weight
4.6 lbs
The Best Laptop Under $100 of 2021
Samsung Chromebook 4 (Brand New)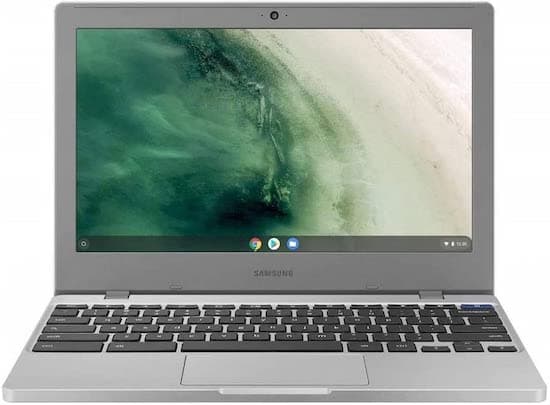 Hardware Specifications
Intel Celeron N4000 Dual-Core Processor (Turbo up to 2.4 GHz)
4GB RAM
64GB eMMC
11.6 Inch HD Anti-Glare Display with 1366×768 Resolution
Google Chrome OS with Play Store
Up to 12 hours battery
The Samsung Chromebook 4 offers best specs to perform basic activities and it stays juiced up to 12 hours. Its price frequently drops around $100 during sales, which makes it our top choice of laptop under $100 of 2021.
That's it people. These are the best laptops to buy within your $100 budget.
I hope this budget laptop buying guide helps you to buy best cheap laptops under 100 dollars for yourself. Feel free to ask us all your questions in comments below.